What is the recommended, most stable version of TD Classical?
2020.10 was golden with a bunch of broken releases after.
2021.7 seems to be all right at least on R1.
What about 2021.8, I have seen some reports on issues, it is noisier due to temporary disabled adaptive current measurement, seems more like intermediate experimental release.
It would be really nice if GD put some label next to releases indicating stability status. Like in AC Content Manager, obviously the latest is not always the greatest.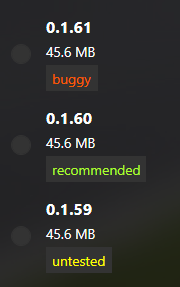 Another suggestion is to invest a bit more into release notes, they are too succinct and most of the times do not reflect all scope of changes that went into particular release version, usually we find out what's in there after things start breaking, like that USB interface experimentations that started after 2020.10.