Anyone has settings for simucube for small mige?
Thanks.
There is a Granity thread, which has gone a bit quiet now, where people were sharing settings for the SimuCUBE software.
In that thread on 9 Aug @mirkeli kindly posted the following chart with suggested settings
.

I've not tried this in DiRT Rally, but am using his preferred settings to good use in Assetto Corsa, so you might want to give them a try. Note that he is overclocking his Small Mige, but it works fine for me at the usual 20nm output.


https://boxthislap.org/mmos-settings/
i am using in Simcube reconstruction filter 5 torque bandwidth 470htz and 450 deg wheel
damping set to 0.45 and friction set to 0.45

started at 26% max torque
Thanks @Simon_Jones
I've used DR with my OSW, just not with Mirkeli's suggested SimuCUBE Firmware settings.
just tried the damping and friction filters with Mirkeli's suggested settings feels allot better from my 0.45 ones

I can´t make Dirt rally to see my OSW wheel anymore when starting to use this simucube software.
Ideas to fix it?
Have you tried this?
Override device type to wheel
Load Dirt Rally, and navigate to the Controller screen. Click on "Choose Preset". Press F1 while you are highlighting your DirectInput device to override the controller type to wheel. If multiple DirectInput devices are shown on this screen, you might need to override all of them. This should make advanced wheel setup available on the controller screen. You also might need to assign the steering axis, after loading the preset, in order for the advanced wheel options become available
Thank you very much Ceolmor! That worked.
Hi,
after finishing the transition of my rim to a new bluetooth controller I tried to improve settings for DR yesterday. Below you can see my current setting and for Monte Carlo with the Polo WRC it feels quite ok at the moment (improved my personal best 3 times in 10 runs - all after ~1000hours in the game), but it looks like feeling changes heavily depending on car and track surface - on Pikes Peak with the Peugeot 405 it's currently a hard thing.
After changing from MMOS to SimuCUBE I was immediately able to improve in Greece with the Lancia Delta integrale without any filters activated in SimuCUBE, but meanwhile after checking all different surface types I'm not sure what the best setup really is - but today is another day for testing.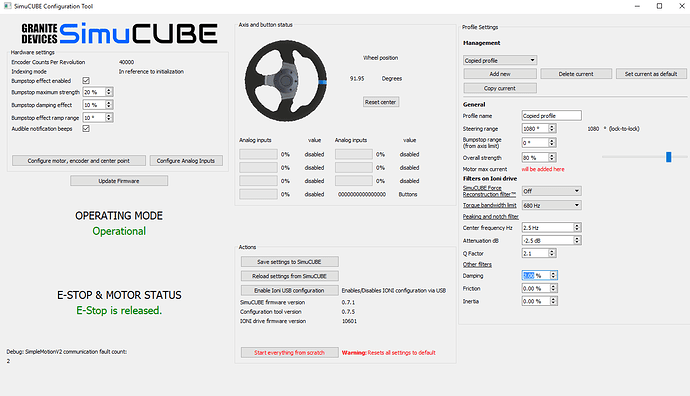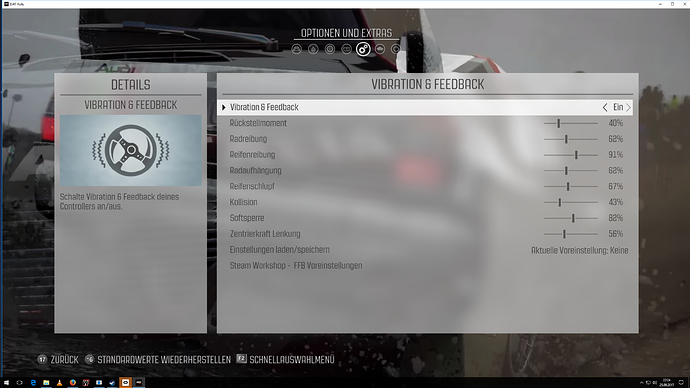 My Setup:
SimuCUBE
Small MIGE
OMP Targa 330 in combo with Martin Ascher's GT3 Paddle Shifters, selfmade buttonbox and a custom BT interface
NDR-480
Ok i made some testing and ended up to something good.
These settings works whit rallycross too. Whit older cars you may have to change steering range.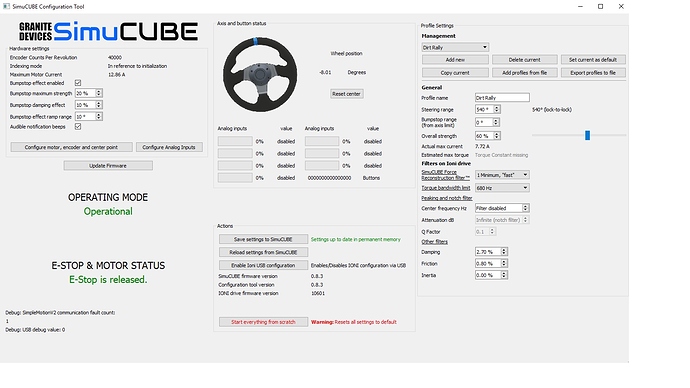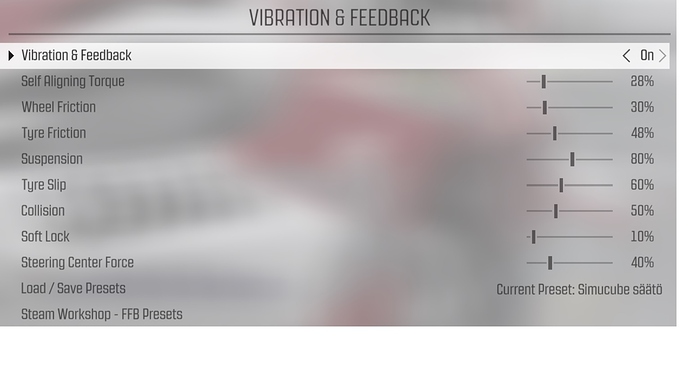 My setup:
Small Mige
Meanwell 480w
Since ver. 8.12 and the introduction of DirectInput friction effect for DiRT Rally, has anyone managed to get any good settings in SimuCUBE Firmware and in-game 'Vibration & Feedback' for DiRT Rally?
I'm really struggling to get settings which feel good. Most settings by other people I try seem to have the force turned down so much there is little FFB.
(Small Mige; 40,000 cpr.)
I think the directinput friction effect slider in the configuration tool should have a good degree of adjustability for the effect. With it set at 0, there shouldn't be any difference to the ffb compared to earlier firmware version. Are you saying that you do get a difference with that even at 0?
Thanks for the reply.
I'm not suggesting that there is a problem with the Directinput friction effect, or with SimuCUBE. I am running Friction at about 20, and it does make a difference.
But I never really got settings I was happy with before v8.12, or for that matter with MMos, and I am fishing for what settings people are now using since the most recent version of the firmware.
Sadly, I've never been able to reach such a point using the OSW with Dirt Rally.
The best FFB I managed to get with the title was when using SimCommander telemetry-based FFB with the AccuForce. It's one of the few cases where the game-FFB just doesn't seem to provide the proper effects. Well, RaceRoom is another one that doesn't translate very well but, it also doesn't work better through telemetry like the CodeMasters titles do in my experience.
I've been giving Jarno's settings a try today using 8.12. Generally it feels pretty good, however my FFB keeps repeatedly cutting out! Pressing and releasing the emergency stop button brings it back, but it still keeps happening every 5-10 minutes. It seems like very fast wheel movements are often what causes it cut out. Any suggestions? Using a Large Mige and 480/720 PSU. Thanks for any help.
E-stop acts also as a clear faults -button in SimuCUBE mode on IONI drive. So, most propably you are generating overvoltage faults. You might want to try the latest IONI beta firmware (available separately).
Were you getting ffb cutting out BEFORE you used Jarno's settings? Did you change anything in Granity, or just in SimuCUBE FW?
I have Small Mige & 480/720 PSU. I've never had ffb cut out in DiRT Rally, whether with Jarno's or any other settings. If you want to post your Granity settings we can compare, or someone clever might be able to see where the fault lies.
Whit new ioni firmware dirt rally is even better. I have updated settings now.
Never has this cutting problem myself.
I will share my setting when i go to my rig next time.
Hi Ceolmor, Jarno's settings were the only ones I've tried for Dirt Rally since I got my OSW.
In any case, I upgraded my IONI firmware to 1.6.30-beta-1 and played for another 30 minutes or so during which time the FFB did not cut out at all. Hopefully I'll find some time to play more today so I can confirm that the issue is resolved.
One other quick question: Where is the best place to find updated .drc files? The last file I got was through the iRacing forums a few months ago. I am not currently subscribed to iRacing though and if I'm not mistaken, this page https://granitedevices.com/wiki/List_of_motors_for_SimuCUBE does not seem to have configurations for 10,000 PPR encoders.
Hi Jarno, I'd love to see your new settings. Thanks for the ones you posted before.