Hey Guys,
I've been having a few issues getting my Simucube 2 Pro to talk to the True Drive software.
Currently I have it plugged in and it seems to come up as a generic game device in the Windows USB Game controllers screen (See attached picture).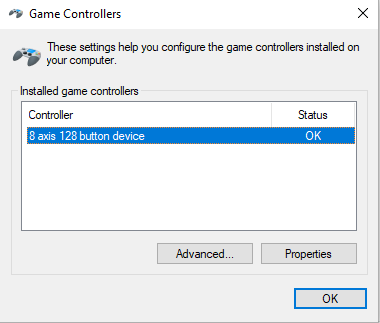 After doing some research as well it seems I might have issues similar to This Thread and that seemed to require a separate firmware update.
If you need any more information let me know.
Here is my logfile aswell from the truedrive software.
14:01:31.315: Opened style file
14:01:31.824: Warning: QMetaObject::connectSlotsByName: No matching signal for on_wirelessbutton_clicked()
14:01:31.836: wheel image: attempting to load:  "wheels/wheelimage.png"
14:01:31.850: "C:/Users/User/Desktop/Simucube_2_True_Drive_2020.1/simucubeprofiles.ini"
14:01:31.853: "C:/Users/User/Desktop/Simucube_2_True_Drive_2020.1/profiles_autobackup.ini"
14:01:31.856: "C:/Users/User/Desktop/Simucube_2_True_Drive_2020.1/profiles_autobackup.ini"
14:01:31.880: loadIncludedFirmwareVersion: included 1.0.15
14:01:32.830: EULA previously accepted.
14:01:32.838: Disconnected state
14:01:32.843: unable to open device, pid:  3423
14:01:32.848: unable to open device, pid:  3424
14:01:32.853: Connected to SC2 Sport
14:01:32.856: reconnected
14:01:33.359: disconnection2askstatus
14:01:33.362: disconnection due to status update read failure.
14:01:34.821: Disconnected state
14:01:34.824: pid 3425
14:01:34.830: reconnected
14:01:35.333: disconnection2askstatus
14:01:35.336: disconnection due to status update read failure.
14:01:36.825: Disconnected state
14:01:36.832: pid 3425
14:01:36.837: reconnected
14:01:37.342: disconnection2askstatus
14:01:37.345: disconnection due to status update read failure.
14:01:38.830: Disconnected state
14:01:38.835: pid 3425
14:01:38.840: reconnected
14:01:39.344: disconnection2askstatus
14:01:39.347: disconnection due to status update read failure.
14:01:40.820: Disconnected state
14:01:40.824: pid 3425