Hello Simracers!
Simucube is getting an official support for wireless steering wheels! SC dev team has been silently working on significant Simucube user experience improvements, and first one to be unveiled is the wireless wheel system.
In a nutshell, a wireless transmitter inside the wheel will deliver low latency signals of paddle shifters, buttons and encoder knobs to the receiver on Simucube. The system supports rapid hot-swapping of different kinds of wheels.
All it takes is the wheel that supports the wireless system, and a receiver module in Simucube. All existing Simucubes are upgradeable to the wireless mode simply by plugging-in a tiny and low cost receiver module.
The wireless system is in final stages of development and more details will follow with official product release.
Technical details & FAQ:
Wireless support may be added to all existing Simucube's by plugging in a wireless receiver on the SC board (receiver sold separately)
Transmitter will be inside the steering wheel button plate. In 2019 there will be wheels in the market that have SC wireless transmitter out-of-the-box.
Special attention has been paid to transmitter energy consumption to maximize the battery life. Single battery will last over 3 years on daily hard-core use. For more casual use with long shelf life battery, 10+ years can be expected.
To maximize battery life, there's no LED's or displays on the wheel side. As many use VR headset anyways, we thought it may be better this way.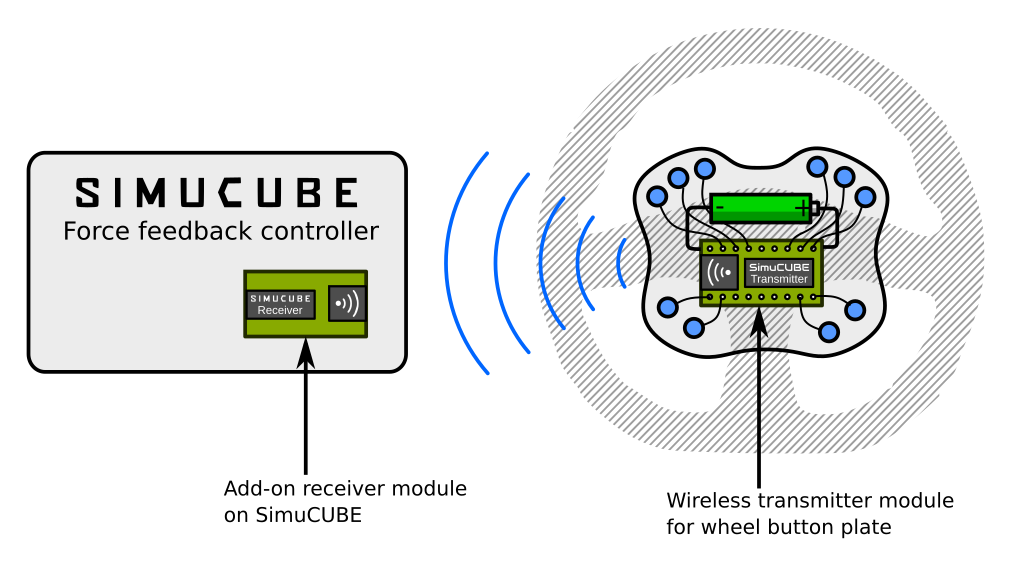 What do you guys think? Share your thoughts in the comments below

BR, Tero