Hi,
Last Wednesday I submitted a support ticket for an undervoltage 140405 issues with my Simucube 2.
I received a single reply to which I replied the same day but haven't had a response since.
Maybe my e-mails didn't go through correctly. So I thought maybe someone on the forums can help.
My problem:
Every time I take an corner in-game the FFB instantly cuts out, steering inputs still work and I get the message added in the screenshot.
When I press the E-STOP as suggested in True Drive the FFB returns till the next corner I take.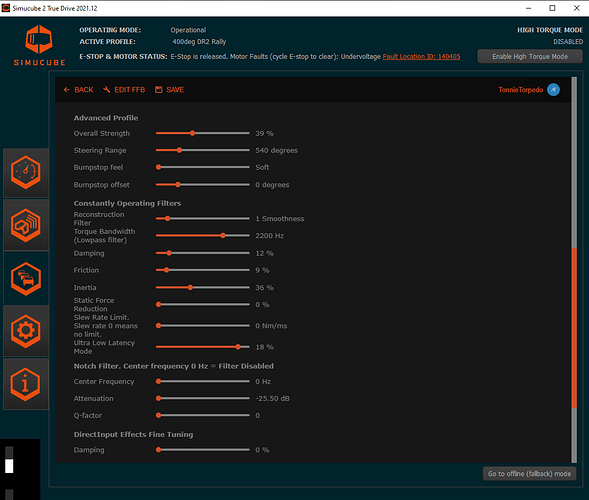 I have the following firmware/software versions:
Software release: 2021.12
Firmware version: 1.3.3
Servo Drive firmware version: 10831
True Drive version: 1.3.3
I tried different games such as Dirt rally 2.0 and ACC in both games the issue occurs. Tried different true drive profiles and different FFB strengths and High torque on and off. Which unfortunately didn't work.
The Simucube 2 R2 (single PSU) is plugged into a grounded wall socket also tried different wall sockets which didn't help, so my guess is that the PSU isn't working properly. But maybe there are other things I can try.
Hopefully someone can help me, I'm excited to try my new DD wheel

EDIT: Just got a reply from Mika with a possible solutions if that doesn't work the RMA process will be started. I will update this topic with results if any future users have the same issues.