Have you deleted the ams2 doc folder?
Yep. I should have kept my old Simucube settings to compare/tweak

I'm experiencing the same issues. Hopefully someone is able to come up with some good settings!
The biggest issue at the moment is that FFB is all over the place across the cars. New, just introduced cars are pretty nice, but if you pick something from earlier releases, it can be quite junky.
I am on close to SuperMonaco settings with Default profile, new GTE cars drive pretty good, DTM M3 not so much, may be one day Reiza will fix them all. Physics still feels simplified comparing to big boys though.
In game: Gain 35 - LFB 0 - FX 0 - Damper 50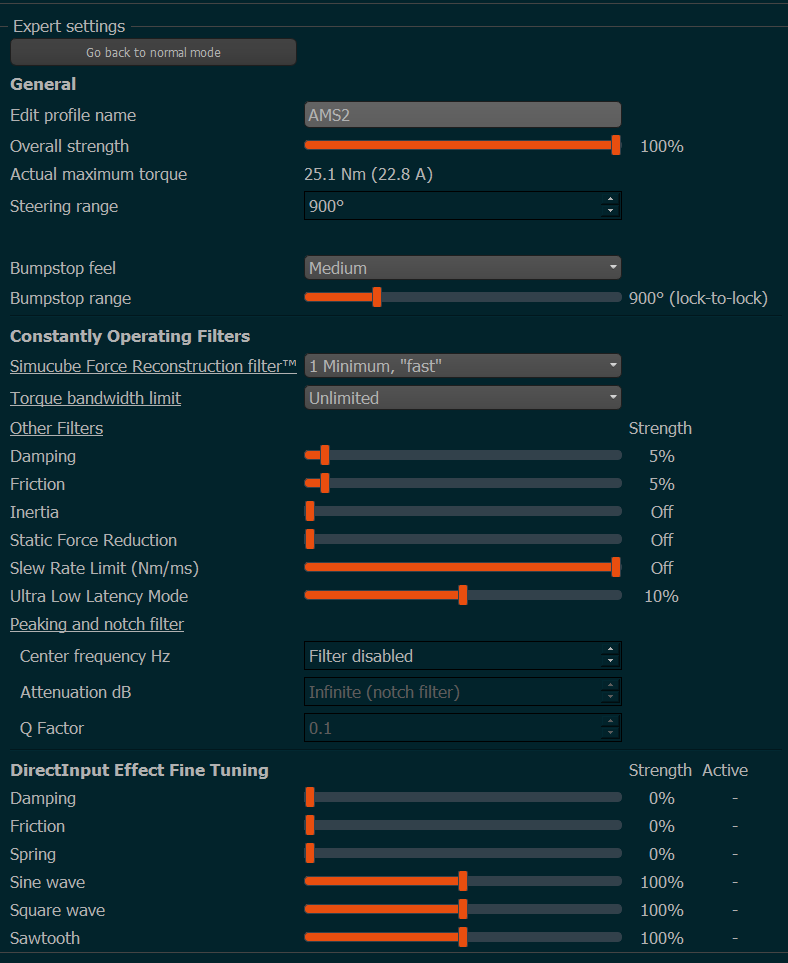 Thanks for sharing! I look forward to trying these out and comparing to the custom FFB file. AMS2 has SO much potential. If they could get the FFB dialed across most of the cars, I doubt I would play much else, especially once ranked online racing goes live later in the year. I'm confident things will only continue to improve overall, but it will be interesting to see how long those improvements take and the increments in which improvements are made.
Just want to mention that these settings are fantastic compared to what I have experienced so far. Thank you very much!
It's weird, I seem to be the only one who thinks the new physics/force feedback are worse than before. I was actually quite happy with them before the update, now everything feels "dulled" down and I can't feel what is happening through the wheel as much. I seem to be spinning out a lot more too. The curbs also used to feel so much more realistic and satisfying. I've tried many different settings including the ones above and deleted the ams2 documents folder. Maybe I'm going mad and it's just placebo?
No you are not going mad. It is exactly like that, my guess is that in their effort to fix the pendulum and twitchyness they toned down the ffb. IMO the default is useless and it has been like that for over 6 months now. As already suggested many time already in this post, the solution to some proper FFB in AMS2 is the custom file.
Personal take, but in my view this is a positive development, one of the reason I used custom is that it dealt with twitchiness and overly enthusiastic SOTP effects.
From new released content M8 is a very good example of how good AMS2 FFB could be, but there is still a lot of work to bring all content to acceptable standards whether you use Default or Custom profile.
There is some truth to that, indeed it think as well that the GTE cars seem to be more tamed i think in that regards.
So after a long time I decided to give ams another chance but after calibration and when session strated wheel just started vibrate. Anyone can help me with that. If I remember good it was same problem when it was released and still there🤦‍♂️
I've liked default ffb even since the last update. It has oscillation issues but it was passable. It's even better now and the best on the GTEs.
Whenever I try these highly recommended custom ffb files I don't understand what people are talking about they feel terrible to me, to the point of crunchy, grindy, random jolts and unintelligible ffb.
I always assume they just weren't designed on a DD wheel. I've felt this way on my old AF and now on my SC2P.
I had some misgivings when I first tried the rFuktor custom file as there were a couple of things that I didn't care for. As I found out, they are pretty much fully tuneable and you can dial specific things in and out to your taste in the same way that you would with rf2 for example.
Without these custom files I would have abandoned the game on day one as I can't tolerate the out of the box ffb.
Guys, @kledsen
What is suggested starting point for SC PRO with settings in TD and in game for latest "muscleFuktor - updated" ??
Also, what has been changed from previous "muscleFuktor"?
You must be using some wrong files or have the settings in true drive or in game somehow not well set up.
For AMS2 the custom files that I know of were developed on either sc2 pro or dd1/dd2, so they are actually the only way to get ffb based on DD wheels first and foremost.
Or your taste in ffb favors Default, which is just fine and no reason to waste time on custom files in that case.
Hi Bazz,
True drive:
Force: 100%
Recon: 1
Damping: 0
Friction: 0
Inertia:0
Limit slew rate: off
Ultra low latency: 0
In game it depends on the car and how strong you want center VS cornering etc.
For gt3/gte:
Gain: 35%-40%
Lfb: 5-15%
Fx: 30%
Power steering(damping) : 10-40%
Less df and less forceful cars, use higher Lfb and less power steering.
More df and more forceful cars, adjust gain down and also adjust Lfb down.
I would say the true drive settings should not be adjusted from the above.
But the i game setting you will slowly learn to adjust towards how you like the feel, it's a little trial and error.
These are immensely better than what I was using before, so thanks! Even if I am using a Simucube 1 they still feel a ton better.
Hi guys,
I'm starting on AMS2 and i have a problem.
When i enable the hight torque and start the game, i don't have any ffb with my Sc2 ultimate.
Can you tell me what i make wrong?
I already try the rfuktor and the problem stay the same.
Silly question, but worth starting with: Have you set controller type to "Wheel" and "Custom", and then reassigned left/right turn, and then calibrated your wheel after all of that?
Yes i set to wheel and custum, i reassigned left/right 900° with ebrake pressed. All of that with true drive set with rfuktor and change de game settings too.
All works good, the steering works good in the game, but dont have any ffb at all. Like when the sc2 is off.
I try the game with hight torque disable and i have low ffb.