Also emergency button pressed, easier to rotate wheel freely.
Sorry, couple quick novice questions here: For these custom .txt FFB files that are being attached within this thread, do I simply move them to the AMS2 folder within My Documents and overwrite the existing file within the folder? Afterwards, do I then select "Custom" instead of "New Default" within AMS2 settings? Just want to make sure I am setting things up correctly. Thanks.
Yes, you paste the custom file you want over the one in Docs / AMS2 folder. The name must stay the same (as the existing one / ffb_custom_settings.txt).
In AMS2, select "custom" ffb profile and adjust settings (Gain / LFB / FX) to your preference.
I like to save these custom files in a special download folder in case I need them again later. You can rename them to keep track of them, or keep them in named folders (author / version, etc.) but, the name as used in AMS2 (ffb_custom_settings.txt) must be consistent when updating the working file.
Can one of the resident SC2 experts please share the entirety of their TD settings? I would like to verify I have them set correctly given these profiles for AMS2. I see the primary ones (i.e. the Constantly Operating Filters), but as a new SC2 user, I am really hoping to verify all of my settings. Thanks again everyone!
Just so you have the current latest version of the custom ffb from the reiza forum I'm posting it here too.
Done by NuScorpii and myself.
ffb_custom_settings.txt (6.0 KB)
This is the one that also has the rear scrub effect.
Cheers!
For those custom ffb files other than the usual filters, I can say that both NuScorpii and I run at recon 1 and then I do slew rate limit of 1.
As a new user I would set the truedrive force at around 10nm a d in game gain around maybe 65-70. This to not lose any fingers right away.
Oh start from fx 50, LFB 50 in game and go from there.
Thank you so much @kledsen! If you don't mind doing so, can you please post screenshots of the current TD settings you are using for the custom FFB you linked? For a new user like me, also including the DirectInput fine tuning settings, and general hardware settings, would be extremely helpful. Thank you again for your help!
Hi Guys
I'm trying to use NuScorpii and kledsen custom ffb along with the attached setting. Unfortunately, I'm getting next to no feeling from the pro 2.
Any ideas what I'm doing wrong?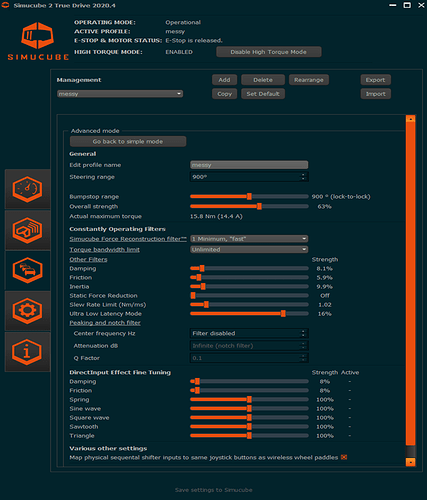 Looks ok, so that sounds weird.
Maybe you have not put the custom ffb file in the right location or not named it correctly, possibly?
You have to copy it to the "documents/Automobilista 2" folder & to make sure it is named "ffb_custom_settings.txt" to be picked up.
Maybe double check inside that file that it has our names at the top to verify it's the right file?
Also, you need to have the file in place there before starting up the game in the first place or it will not be picked up.
Good luck!
Chip,
Maybe you can use the images that mobanton just posted?
I would put "overall strength" down to somewhere 10-12 nm, though, for a start.
Then you can go a little higher on friction & a little lower on inertia, depending on car you drive. But it really is a matter of what makes it feel most realistic to you, so very subjective.
Sounds good, thanks, I will experiment and post my settings for feedback.
Is it just with the custom file or with the defaults too that you get very little feeling?
The custom file doesn't alter the core FFB, it just adds some of the missing subtle effects and tweaks the ratios slightly.
Something I have seen recently in the bug reports for AMS 2 is that there can be cross talk between brakes and steering when Brake Assist is turned on. Another bug report is that some assists can be on when turned off in the menu until you cycle them in the game whilst playing. Maybe a combination of this affected you?
Here's the video from the bug report:

I was getting very little feel from the pro before I tried your custom file.
New patch, FFB and Physics updates
FORCE FEEDBACK
Slightly refactored the way steering arm forces pass on to FFB (should provide a slightly "tighter" wheel around center)
Slightly reduced the filters that added in previous update,
Added soft lock for wheels that still didn´t have it (WIP).
Disabled Old Default FFB profil
FFB profiles with lockstops enabled and new exposed values in them.
The update did the trick. The is power back! Normal service has been resumed

I'm using the latest version game (0.9.3.1)
I have, SC 2 Ultimate
but i am having some problems
vehicle loses its balance quickly than necessary
and the steering seems to react slowly to my movements
Do you have any suggestions about the settings?
Thanks NuScorpii - I didn't have any real trouble getting my controls set up in AMS2, but I only have 1-2hrs on AMS2. I'm mostly using ACC until AMS2 is at or near 1.0. No control problems was great, since with AMS2 using some aspects of PC2, I was really worried I'd have my unusable PC2 problems in AMS2 also.
So I've mentioned my PC2 problems here a couple times, just so if someone has unusable problems in AMS2 getting controls set up, it may help knowing that I had severe problems with controls in PC2.
I appreciate the tips on bug reports, but I have no plans to use PC2 again, so I won't be concerned unless I get similar PC2 problems in AMS2. Thanks & Have Fun!
Don't think you understood the reason for me posting that. It is a guy having exactly the same issues as you did, but in AMS2 and with an explanation and fix. The tip was not for bug reports per se, but to give another explanation and fix for people that experience this issue.