I am having an issue writing the simucube-bootloder.dfu file using Dfusedemo to a new Simucube board. On my first attempt on my Windows 10 PC, the PC crashed with an error related to the USB driver for the Simucube, and now the Simucube board will only be recognized as a USB device if the board is set manually to dfu mode using the dfu dip switch.
I have since found out from one of the previous threads, that there is a potential USB issue with the motherboard in my PC, an Asus X99, which may explain the crash.
I am now using a very basic HP PC running windows 10 to try an load the bootloader, but I am getting the error 'Bad state machine in firmware' from Dfusedemo, and the Simucube board has to be power cycled for it to be recognized by Dfusedemo again. Sometimes Dfusedemo will lock up as well and has to be restarted.
Here is a screen shot of Device Manager, Dfusedemo and the error screen: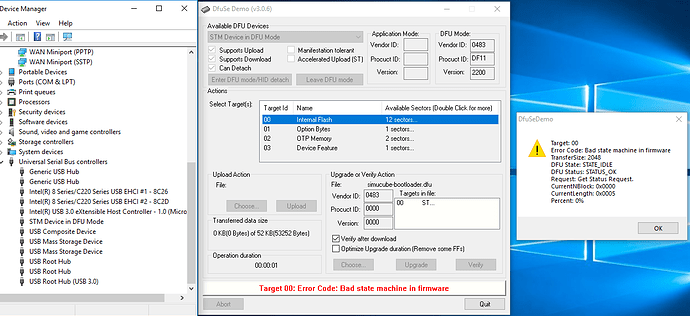 Does anybody have any suggestions of what I can try next?
Thanks for your help.