Hey guys,
I have a bit of a strange vibration problem with my Simucube 2 Pro.
First of all the problem appears on different sims (ACC, REE, iR).
Let me explain:
Every time the force feedback gets loaded I have a strange vibration in the wheel. Kind of resonace feeling. It feels a bit like an electric buzzing.
It always appears when the simucube 2 makes his noises (i know they are normal…they are not a problem, im playing with headphones).
With smaller wheel (ascher f28) i cant feel it too much, but its their. With bigger wheel i feel it more (Cube GT Pro Zero or Fanatec Porsche Wheel with a USB-Buttonbox).
I looked on the internet, but it seems to be a bit of a snowflake problem

So i've tried some different thinks:
different settings. Only the reduction of the slew rate to a minimal value helps but than the ffb feels like crap
tighten up all the screws on my rig (I'm using a alu 8020 alu-rig).
change the mounting of the wheelbase
rebuild the rig
After all, I contacted the support. They told me the sound is normal and the resonance feeling is some problem with my RIG.
As you can imagine I'm a bit desperate. Do you have any idea what I can do to solve the problem?
I hope you can understand what i'm saying, my english is not the best

hear is a screenshot of my settings: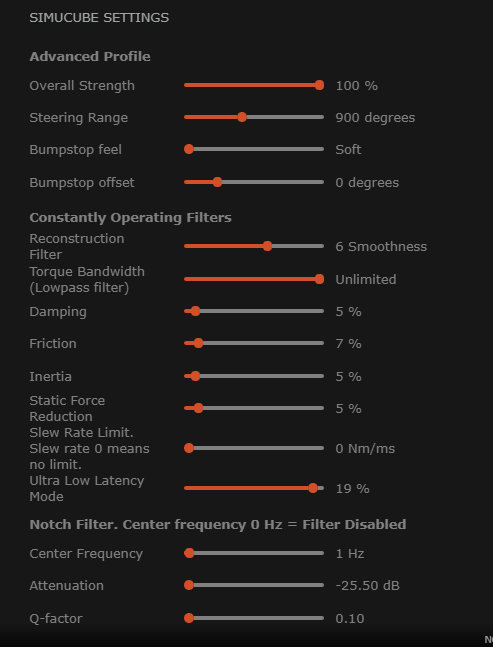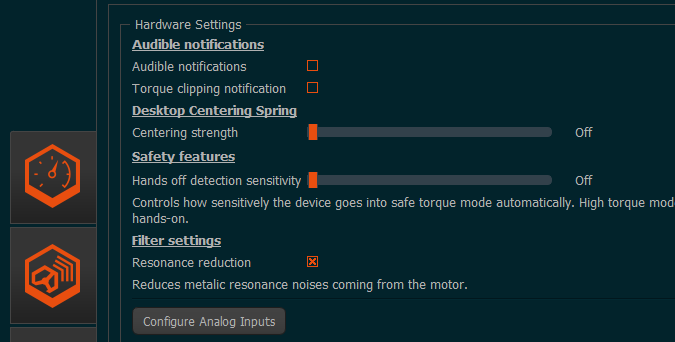 If i uncheck the resonance reduction the problem is getting worst.
I use the latest software (2022.2).
In iRacing it set the max force to 72Nm and the Wheel force to 25mn