Thats not a hobby thats an addiction ???
hello, could you tell me how to do it, I have the same steering wheel as Nicsos and I would like to fix it a bit
Finally finished. I will get better pictures in the day time and on the rig. It works great though. The signal between the wheel base and wheel is great with the little antenna they provide. It was not as strong without it sadly.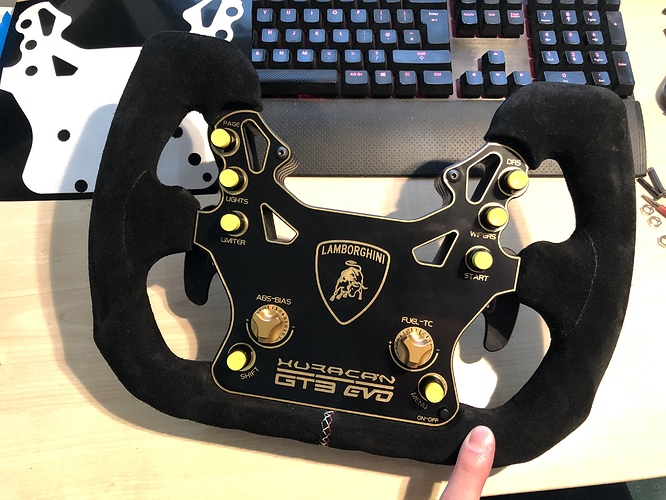 There are a couple out there that directly connect to windows BlueTooth… One is from a US SC2 Dealer the other is from an English Company… I have been using the one from the english company for a couple of years now but the firmware is pretty touchy but once set-up it does work well. I have no clue on the US one.
Windows Bluetooth is something different


My PC is positioned at another location and only cables reach the seat location.
Received my HW and maybe start building some code next week.
Omg that's a lot of buttons I wouldn't know which one is which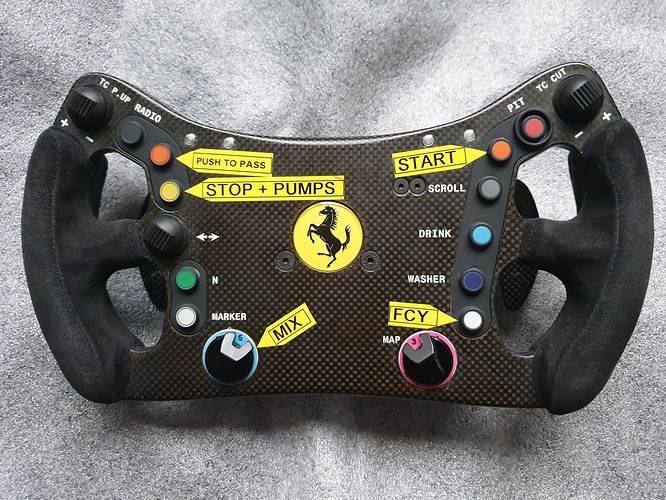 I thought it would be cool to share this… With some extreme luck, I found a real Ferrari 488 steering wheel that comes from a 488 that crashed at Spa-Francorchamps. I knew that Zach from Turn Racing would be interested, and he decided to buy it. He let me take care of the local purchase and I'm going to ship it to him. He's going to use it for R&D to produce even more realistic replica wheels. He'll probably convert it for simulator use too.
I wish I could keep it myself, but in return for my help, Zach will build me one of his Audi R8 LMS 2020 replicas with Ascher Racing dual clutches for a reduced price :D.
The wheel weighs 1.571kgs and is 315mm wide and feels at least as good as it looks. The suede is as new, the buttons and rotaries/encoders have very positive tactile feedback, and the magnetic carbon shifters are crisp.
For more images: https://imgur.com/a/JLkAiNJ
And a short video: https://youtu.be/KVWko6fLppE
Thats a nice one

I've just put my order in with Carsten at Fi Tech for the AMG GT3 rim. I can't wait

then save up again and possible get the PSE LM-Pro to go along with my PSE GT3 and then I am complete…hopefully

Awesome Mike! I've seen other wheels from Fi-Tech which looked absolutely stunning! You certainly have good taste when it comes to wheels

.
My 'perfect' wheel collection would probably be:
-Turn R8 (or PSE LM-Pro) for GT3/GTE cars (my favourite type of cars)
-310-330 round or D-shaped wheel with a button plate such as the Ascher Racing B16 / C26 (or a HRS / PSE GT3 wheel) for touring cars, porsche cup, V8 supercars, rally, etc.
-Ascher Racing F64-DASH-USB (or PSE GPX/LMP-Pro) for formula, LMP and indycars
-14-15'' deep dish for drifting and Nascar
-Maybe a big round wheel with small grips for classic cars
Wouldn't it be nice to have a wheel for each car?

If only…
That is a noble decision you made for all Sim Racers!
Would buy the replica in a heartbeat if the prancing horse is in the middle

I love these threads so i guess i should contribute with my current collection:
Sportline 285mm, 3mm aluminum plate with 3d-printed enclosure, alkentech sls-printed paddles.
DIY Cube F1 wheel (couldn't justify the cost buying one so made one myself).
And of course the standard AMG GT3 rim
Random 330mm suede alibaba rim, 3mm alu-plate, buttons and stuff…
And finally an battle scarred momo mod 29
I use Fusion 360 for 3d-work then print stuff on my wanhao i3. Electronics is a combination of ebay, bodnar and local dealers, i try to keep the cost down becuse im cheap

The most expensive parts is the QR's. I 'only' have 4 of them so i have to switch between wheels, maybe i should do a QR for the QR?
There are some models already available


https://www.thingiverse.com/search?q=simucube&dwh=595df7a07edd69b
Nice, i had missed that. I will give it a try and see how it works. I printed some QR's to my T500 and reenforced them with bolts, maybe i will try something similar with this.
3D printing a simucube adapter? It would have to be strong! 100% infill !
Depends on torque direction, I've done some stress test on cheap filament.
Even on 10% infill it could handle 100KG (biggest metal weight I could borrow)
After that I made a couple of prints I could test outside myself, 1 tyre of a 1800KG Renault van was not enough to destroy the models. Tested 10 to 100% infill in steps of 10%.
Pretty good then!
I'm using premium PLA at the moment and it seems quite strong, however i do have some carbon-T which is PETG infused with carbon fibre. That is really strong but i had to stop printing it as it kept clogging, also a 0.4 nozzle ends up at 0.5-6 after a while!
I have done a lot of machine changes since then so could print it again but not had a requirement yet.
Sim Racing Bay GT3 Wheel

Lovely feeling buttons, good quality decals and impressed with Ascher shifters.
Registering about 40-50% strength signal with my V1 Ultimate, hopefully that won't cause any issues … won't find out until Christmas now as the Wife is wrapping it up to go under the tree