Hello All,
Just completed my Simucube1 build - Simucube + ProHC. Wiring all looks good, so proceeded to start by installing bootloader, and Simucube firmware per the user guide here: https://granitedevices.com/wiki/SimuCUBE_Firmware_User_Guide
I started with 0.11.2, as it seemed prudent and I didn't immediately have any indication as to what may have been installed from the Factory. Then, attempted to install 0.54.4d. And I've had zero luck proceeding beyond that. Constantly receiving errors about the drive's firmware not being correct. I went back and set Simucube to DFU mode, and installed the clear all reset bootloader from 0.11.2, and tried to step up again - but no luck.
Can someone provide some assistance?
EDIT - screenshot of Simucube Configuration software attached. And logs.simucube_drive_firmware_error.txt (37.4 KB)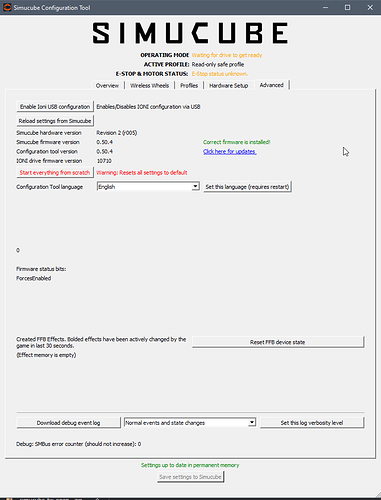 Thank you!
Ian