New Win 11 build.
Using latest Simucube 1.0.40.
Do not have granity on my drive, but pretty sure that's unnecessary anyway.
Simcube has been working fine, until today when I tried to launch iRacing to find that no wheel was detected.
Inspecting Device Manager shows the following error under the USB controller section:
"Windows has stopped this device because it has reported problems. (Code 43)
A request for the USB device descriptor failed."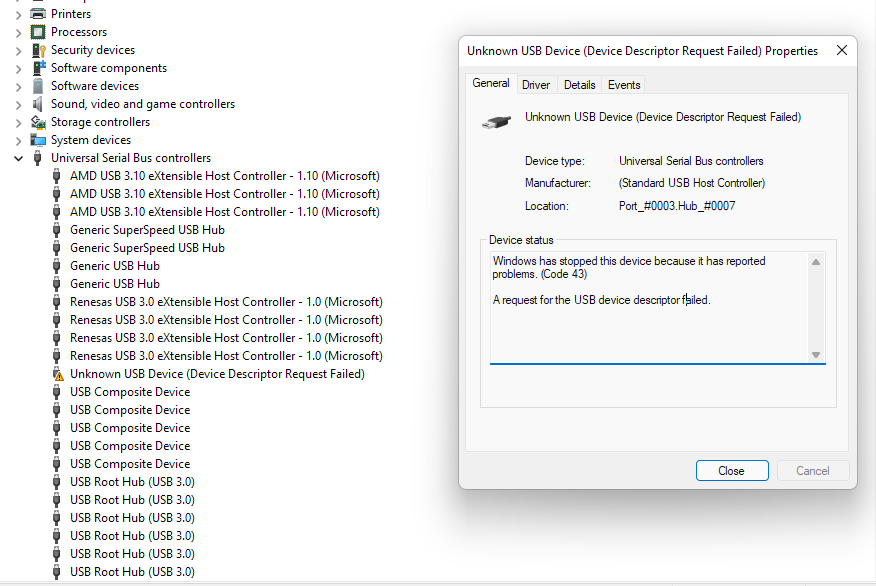 Tried power cycle everything (including PC), using different USB ports etc.
No luck.
Simucube has power and I can feel the usual resistance in the wheel, so pretty sure it's not a mechanical problem or anything to do with the SC1 electronics as I'm seeing solid green lights inside the SC1 enclosure.
I seem to recall a similar issue with an other USB device a few years back, and the solution was to reset my motherboard's CMOS because once the controller was locked, Windows essentially would not allow it to work, and I could not find a solution anywhere.
I will try this and report back, but would appreciate some help if someone knows of another way to resolve this?
Thanks!
UPDATE: - BIOS CMOS Reset on my PC did not resolve

HELP!