Hi,
New user on here,
We have 8 Sims currently on Simucube 1, and have had a lot of issues, after some time we have gotten most of the working and left with 2 main issues.
Sim 1: Error 140403
We replaced the USB Cable - this helped with one issue of the simucube being disconnected completely

Error 140403: After playing PC2 we would notice red light flashing on Simucube, we have looked at the error code and clicked on the help guide suggestion which reads
Velocity exceeded the limit defined by Over speed fault FEV Increase Over speed faultFEV or avoid running motor too fast
When I open granite deivces and try clicking on the button to increase FEV it stays on 0.00 and will not allow me to change, now I did try on the other sims to increase the value and none would let me, but we only have error 140403 on this sim.
I have swapped the Power Supply and still same issue, I am thinking we have a bad simucube board that we need replacing.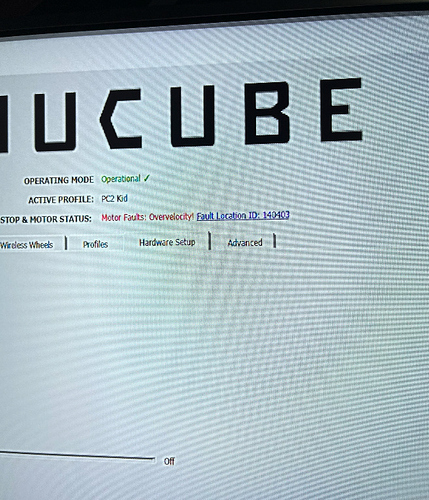 Will anyone be able to help out, I be happy to remote screen share the device,
Thanks