Hello!
Has anyone encountered issues whereby some buttons on wireless rims fail to register with the Simucube 2 Pro?
I have a brand new Simucube 2 Pro, and I'm on my 2nd brand new CubeControls GT Pro OMP Wireless rim - having returned the first one assuming it was a fault with the rim. The buttons which fail to register are the exact same pattern as my first rim - so it seems too much of a coincidence. I've de-registering and re-registering the rim, tried plugging the SC into different USB ports (USB 2.0 and 3.0), tried different USB cables, tried unplugging as many other USB devices as possible, tried turning off all devices nearby that emit a radio signal (routers and phones). I'm running True Drive version 2021.4_4, updated SC with the latest firmware, and True Drive says the signal strength to the rim is 100 and battery is 4.00.
This image shows the buttons that do register marked green, and don't register marked red. Like I said - exactly the same pattern as my 1st rim.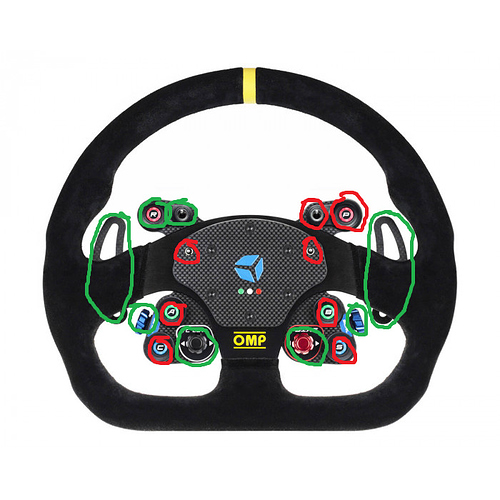 Any ideas?