Looking for some help, please. Been using my SC1 without a glitch for a few years now.
Today, it did not work and upon checking the Simucube config tool I see Operating Mode = Disconnected and E-Stop & Motor Status = Overvoltage threshold [FOV] must be > 102% of HV BUS voltage. Since another restart of both my SC1 and my PC and I get no message at all now. Only "Disconnected" and "Unkown".
I've tried connecting a USB cable from the FW port to my PC but get no success with a successful connection in Granity either, so I am unsure how I can problem solve this. On the Connect tab in Granity I can see SimpleMotion USB (FT230X Basic UART) and SimpleMotion serial port (Com6) but neither option brings up any successful devices to connect to when searching for a device. "Enable Ioni USB configuration" button is greyed out along with everything else in the Advanced tab of the Config Tool.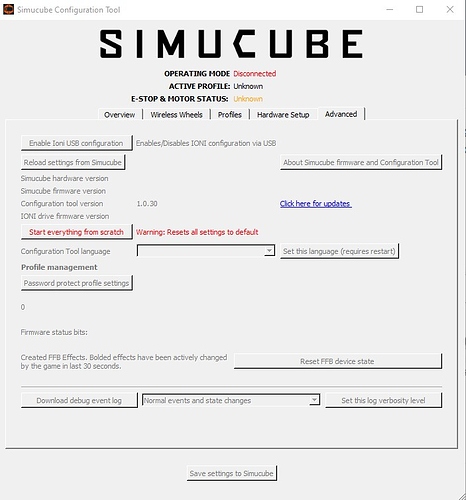 It's been quite a long time since I've had to connect to Granity. Until now, its been running flawlessly. So if I'm doing something wrong, please tell me. But it looks to me like I have a connection issue with the wheel base being non-responsive in both Granity, Simucube config tool or DIView.
Any help would be greatly appreciated.
Hardware and Software is as follows:
SimuCube with Ioni Pro HC
MeanWell SDR-480-48 PSU
Large Mige 15015 Motor
Simtronix (Heidenhain) SinCos encoder
SimuCube software v1.0.30
Granity software v1.14.2
Loading my .drc settings from file (I can't read off the FW connection) shows my Fault settings as below: