Hello all,
I have a big problem. I can not get my DD wheel started.
I have the following components:
Small MiGE 130ST-M10010 (10000ppr encoder)
Argon Servo Drive with STM32F4DISCOVERY and Braking resistor
I have reloaded the following FW. (ArgonFWpackage2.1.0-simwheel-GCFW-9300.gdf)
That worked.
Then I set the following values ​​for the Mige in Granity. See picture 1 – 7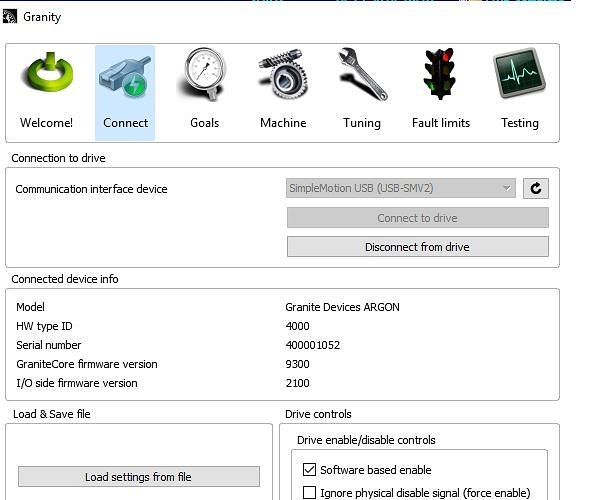 Then I started Mmos and set the following under Setup:
-PWM Mode = PWM & Dir
-PWM = 3.4 kHz
-Enable Force Led = unchecked
Encoder CPR = 40000
-Reverse encoder = unchecked
-Use Encoder Index = CHECKED
-Report Combined Pedals = unchecked
-The four remaining drop down selections all set to NONE
-Abort, stop
"FFB configuration": Default  Save; Eprom  Save
http://wewe-motorsport.de/8.JPG
Exit and switch off the system

Switch on the system again and wait until indexing ends
Turn the steering wheel until the blue light goes off
But the blue light keeps flashing on and on?
• Open the MMO's, turn the steering wheel straight and center on "Steering"
• Then an offset value should actually be displayed under "turning range" and the steering wheel should work
But there is no offset value ???
Also it does not save the setup parameters in Mmos.
Then I got a tip I should not click in the setup of Mmos the hack at index score. When I do that and reboot the blue LED does not light up. And he keeps the setup settings in Mmos. (See pictures)
http://wewe-motorsport.de/11.JPG
But the steering wheel is not recognized or moved under Windows Game Controller.
When starting the steering wheel 1-2 moves a little to the left and right. Then it stops and makes a clear "click".
Do you know what could be the mistake here? I despair so slowly.
Many thanks in advance for your help.