After a break of almost half a year, I have brought my Rig-PC back into shape…
means the 5-year-old Windows 10 is completely reinstalled, and accordingly all drivers and additional programs for Motion, Pedals, steering wheel, button box, SimVibe, wind simulator. … and and and installed and set up again.
All fits so far, only my steering wheel base is somehow very strange. I knew that in the 5 years
not until now.
It's also hard for me to describe… but in certain steering situations it feels like a weird one
infinitely high-frequency vibration. As if something were loose… and sometimes also bulges/increases,
but then disappears again… is also only with strong counter-steering torques…
And this stimulation / vibration only comes at 30 to 40km/h (no matter which car I choose in the game) is unbearable at the peak between 140 and 160km/h and is gone at the latest from 210km/h… ?!?
From then on, the steering feel is somehow completely different…damped and "less detailed" somehow.
The whole thing is quite strange… especially the KM/h-dependent makes me confused…can actually just be some software/driver/settings problem… or?!?
If I go down to below 30% in Assetto Corsa (FFB strength from the app bar) it's gone, but for that
I don't need a DD-OSW for a weak lifeless steering FFB, and it always worked great before that. Over 80 to
90% it's unbearable and I think something's about to explode. Normaly i drive between 40 and 60% depending on the car
I've never had anything like this and have the same drivers and settings as before the Win10 reinstall.
These are all my settings (which were no different even before the system was reinstalled):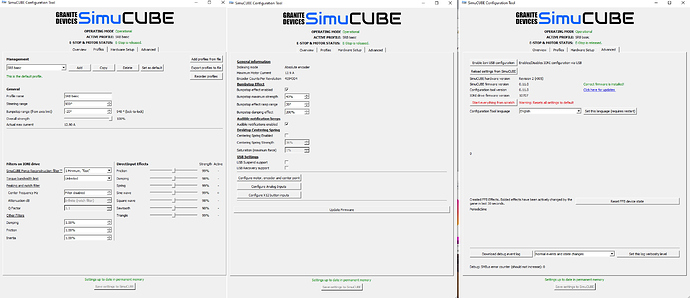 What could that be?? Gives me tips on where I should proceed to get to the bottom of the error.
It can't be the servo motor itself, because I don't have this problem in Automobilista 2!
Has something changed in Assetto Corsa, the CM or CSP?!?..it has been the final status for years…
Thank you for your help and solutions.