2 month old SC2 Pro. I've noticed this quite distinctly this past week. Ferrari 488 GT3, iracing, nurburgring GP. About 30 minutes into a 40 minute race, I start to feel distinctly that the steering effort is much lighter than I'm used to feeling. iRacing wheel force set to 25nm, true drive setting at 100% overall strength, linear mode. I typically run 78nm or so in Max force and this feels perfect for me at the start of the race or during practice.
Anyway, with about 8-9 minutes remaining, I start to feel that the steering feels too light. FFB is still working as I still feel weighting and rumble effects but everything feels very dialed down. It was quite eerie the first time it happened, and I actually went into the graphics black box mid race to decrease the value of my Max Force to get more weighting back, which helped. I did not crash or otherwise do any damage to the car in that particular race.
I'm trying to determine whether:
this is part of iracing's tire wear model or some other weird thing it's trying to simulate
or whether I have a fault in my configuration or SC2 hardware
I have not ever seen the clipping telemetry go anywhere near red. It's always green and since I run such low forces at around 78nm max force, I don't think I am over working the wheel base. At the end of the race I removed my glove and touched the SC2 unit and it was cool to the touch.
Anyone experience this? How should I go about narrowing this problem down?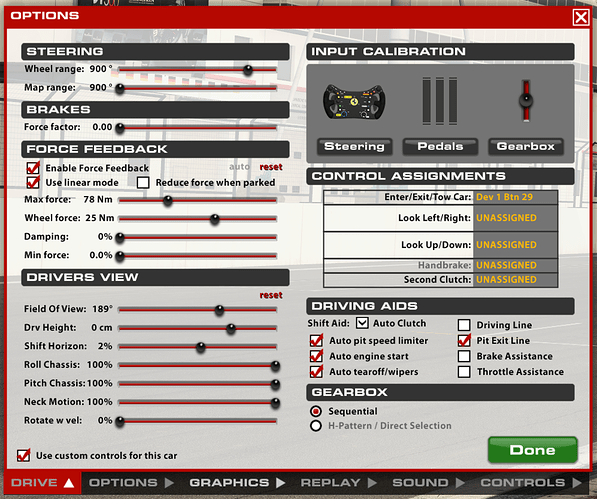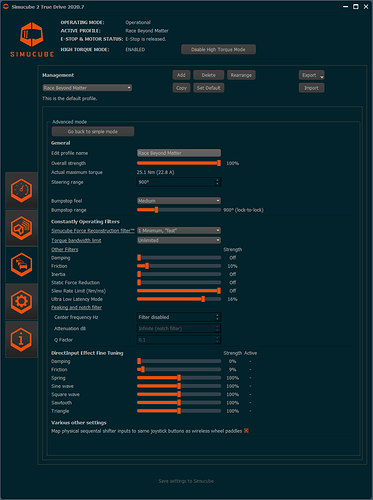 I set the logging level higher prior to my most recent race and this is the result. Do you notice anything weird?
Timestamp : 2030
Wireless: State change : 2
Simucube Boot : 1
Simucube Boot : 0
Simucube Boot : 26
Flash settings data loaded : 0
First-time drive initialization : 0
Initial config has been previously performed. Initializing Drive. : 0
State: Initializing Drive : 0
Drive Firmware update : 0
Drive firmware updated successfully : 0
Command: Request profile number : 0
Command: Request profile name for profile : 0
Command: Request profile byte data for profile : 0
Command: Request profile number : 1
Command: Request profile name for profile : 1
Command: Request profile byte data for profile : 1
Command: Request profile number : 2
Command: Request profile name for profile : 2
Command: Request profile byte data for profile : 2
Command: Request profile number : 3
Command: Request profile name for profile : 3
Command: Request profile byte data for profile : 3
Command: Request profile number : 4
Command: Request profile name for profile : 4
Command: Request profile byte data for profile : 4
Command: Request profile number : 5
Command: Request profile name for profile : 5
Command: Request profile byte data for profile : 5
Command: Request profile number : 6
Command: Request profile name for profile : 6
Command: Request profile byte data for profile : 6
Command: Request profile number : 7
Command: Request profile name for profile : 7
Command: Request profile byte data for profile : 7
Command: Request profile number : 8
Command: Request profile name for profile : 8
Command: Request profile byte data for profile : 8
Command: Request profile number : 9
Command: Request profile name for profile : 9
Command: Request profile byte data for profile : 9
Command: Request profile number : 10
Command: Request profile name for profile : 10
Command: Request profile byte data for profile : 10
Command: Request profile number : 11
Command: Request profile name for profile : 11
Command: Request profile byte data for profile : 11
Command: Request profile number : 12
Command: Request profile name for profile : 12
Command: Request profile byte data for profile : 12
Command: Request profile number : 13
Command: Request profile name for profile : 13
Command: Request profile byte data for profile : 13
Command: Request hardware settings : 0
Command: Request analog input settings : 0
Command: Request bytedata for analog profile : 0
Command: Request analog input settings : 0
Command: Request bytedata for analog profile : 1
Command: Request analog input settings : 0
Command: Request bytedata for analog profile : 2
Timestamp : 4322
Wireless: State change : 3
Command: Request analog input settings : 0
Command: Request bytedata for analog profile : 3
Command: Request analog input settings : 0
Command: Request bytedata for analog profile : 4
Command: Request analog input settings : 0
Command: Request bytedata for analog profile : 5
Command: Request analog input settings : 0
Command: Request bytedata for analog profile : 6
Command: Request analog input settings : 0
Command: Request bytedata for analog profile : 7
Command: Request analog input settings : 0
Command: Request bytedata for analog profile : 8
Command: Request analog input settings : 0
Command: Request bytedata for analog profile : 9
Command: Request analog input settings : 0
Command: Request bytedata for analog profile : 10
Command: Request analog input settings : 0
Command: Request bytedata for analog profile : 11
Command: Request analog input settings : 0
Command: Request bytedata for analog profile : 12
Command: Request analog input settings : 0
Command: Request bytedata for analog profile : 13
Command: Request analog input settings : 0
Command: Request bytedata for analog profile : 14
Command: Request analog input settings : 0
Command: Request bytedata for analog profile : 15
Command: Request analog input settings : 0
Command: Request bytedata for analog profile : 16
Command: Request analog input settings : 0
Command: Request bytedata for analog profile : 17
Command: Request analog input settings : 0
Command: Request bytedata for analog profile : 18
Command: Request analog input settings : 0
Command: Request bytedata for analog profile : 19
Command: Request analog input settings : 0
Command: Request bytedata for analog profile : 20
Command: Set calibrated analog axis mode : 0
Drive init stage 1, position : 3463030
Read MMC value from Drive : 22800
Read Motor Resistance value from Drive : 700
Read CPR from Drive : 4194304
Read Drive Version ID from drive : 40000
Simucube 2 Serial Number : xxxx
SM Watchdog disabled successfully : 0
Successfully applied DRC data to Drive : 0
Read MMC value from Drive : 22800
Read Motor Resistance value from Drive : 700
Read CPR from Drive : 4194304
Read Drive Version ID from drive : 40000
Simucube 2 Serial Number : xxxx
Waiting for servo to be ready : 0
Drive init stage 3, position after faults cleared : 3463025
Drive init stage 4, phasing, current position : 3463037
Drive init stage 4, phasing, current position : 3463037
Drive init stage 4, phasing, current position : 3463041
Drive init stage 4, phasing, current position : 3463041
State: Drive initialization was successful : 0
State: Set baudrate : 0
SM Watchdog enabled successfully : 0
SMBus baudrate initialized successfully : 4500000
State: Before operational - calculating new constant values : 0
State: Operational : 0
event 260 : 0
event 261 : 0
event 262 : 0
Wireless: Scan response : 119
Timestamp : 19736
Wireless: State change : 4
Timestamp : 19765
Wireless: State change : 5
Timestamp : 19767
Wireless: Task change : 2
Wireless: Connection parameters : 1
Wireless: Connection parameters : 6
Wireless: Connection parameters : 0
Wireless: Connection parameters : 50
Wireless: Connection parameters : 27
Wireless: Connection parameters : 1
Wireless: Connection parameters : 6
Wireless: Connection parameters : 0
Wireless: Connection parameters : 50
Wireless: Connection parameters : 251
Timestamp : 19791
Wireless: Task change : 3
Timestamp : 19809
Wireless: Procedure completed : 0
Wireless: Configuration Data : 0
Wireless: Configuration Data : 1
Timestamp : 19830
Wireless: Procedure completed : 0
Wireless: Connection parameters : 1
Wireless: Connection parameters : 6
Wireless: Connection parameters : 0
Wireless: Connection parameters : 50
Wireless: Connection parameters : 251
Timestamp : 19853
Wireless: Procedure completed : 0
Wireless: Configuration Data : 1
Wireless: Configuration Data : 1
Timestamp : 19874
Wireless: Procedure completed : 0
Timestamp : 19890
Wireless: Procedure completed : 0
Wireless: Configuration Data : 10
Wireless: Configuration Data : 42
Timestamp : 19922
Wireless: Procedure completed : 0
Timestamp : 19935
Wireless: Procedure completed : 0
Wireless: Configuration Data : 11
Wireless: Configuration Data : 42
Timestamp : 19967
Wireless: Procedure completed : 0
Timestamp : 19974
Wireless: Task change : 4
Timestamp : 20015
Wireless: Procedure completed : 0
Timestamp : 20019
Wireless: Task change : 5
Timestamp : 20047
Wireless: Procedure completed : 0
Timestamp : 20051
Wireless: Task change : 6
Wireless: Low RSSI detected : 14
Timestamp : 20085
Wireless: Procedure completed : 0
Timestamp : 20088
Wireless: Task change : 7
Timestamp : 20092
Wireless: Task change : 0
Wireless: Battery Voltage : 3580
Timestamp : 21046
Wireless: Task change : 8
Wireless: Connection parameters : 1
Wireless: Connection parameters : 6
Wireless: Connection parameters : 5
Wireless: Connection parameters : 200
Wireless: Connection parameters : 251
Timestamp : 21103
Wireless: Task change : 0
Wireless: Uptime : 1
Wireless: Battery Voltage : 3577
Wireless: Uptime : 2
Wireless: Battery Voltage : 3580
Wireless: Uptime : 3
Wireless: Battery Voltage : 3574
Wireless: Uptime : 4
Wireless: Battery Voltage : 3576
Wireless: Uptime : 5
Wireless: Battery Voltage : 3576
Wireless: Uptime : 6
Wireless: Battery Voltage : 3574
Wireless: Uptime : 7
Wireless: Battery Voltage : 3575
Wireless: Uptime : 8
Wireless: Battery Voltage : 3574
Wireless: Uptime : 9
Wireless: Battery Voltage : 3572
Wireless: Uptime : 10
Wireless: Battery Voltage : 3571
Command: Set eventlog verbosity to level : 1
FFB: Free all effects : 0
FFB: Set device gain to : 255
FFB: Free all effects : 0
FFB: Set device gain to : 255
FFB: Find first free effect slot : 0
FFB: Found free effect slot ID : 1
FFB: Created new effect, TYPE : 255
FFB: Find first free effect slot : 0
FFB: Found free effect slot ID : 2
FFB: Created new effect, TYPE : 1
FFB: Start effect ID : 1
FFB: Start effect ID : 2
FFB: Stop effect ID : 2
FFB: Free effect ID : 2
FFB: Stop effect ID : 1
FFB: Free effect ID : 1
FFB: Free all effects : 0
FFB: Free all effects : 0
FFB: Set device gain to : 255
FFB: Free all effects : 0
FFB: Set device gain to : 255
FFB: Find first free effect slot : 0
FFB: Found free effect slot ID : 1
FFB: Created new effect, TYPE : 255
FFB: Start effect ID : 1
FFB: Find first free effect slot : 0
FFB: Found free effect slot ID : 2
FFB: Created new effect, TYPE : 1
FFB: Start effect ID : 2
FFB: Stop effect ID : 2
FFB: Free effect ID : 2
FFB: Stop effect ID : 1
FFB: Free effect ID : 1
FFB: Free all effects : 0